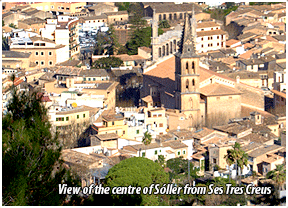 This short walk consists of going up to Ses Tres Creus from Plaza de la Constitució of Sóller via the cemetery and returning by the same path. The views observed from this spot are well worth the small effort required to reaching it.
Leaving the railway station of Sóller (the former fortified estate of Can Maiol in 1606) and via Calle Castanyer we arrive at Reial where Casal de Can Mas is worthy of special mention (1900). From here we turn into Calle Unió on whose corner we localise the building of the Sollerense ombudsman whose façade dates back to 1887.
We thus arrive at Calle Pau Noguera which we go along on the right. Higher up we come across Calle Germanes Casesnoves which recalls the deeds of the courageous Women of Can Tamany. At number 4 of this same street is the house of Ca N'Ull de Déu whose projection provides a good selection of very elaborate painted tiles.
We keep on ascending Calle Pau Noguera until reaching the town cemetery, well endowed with vegetal species and housing sculptures by various recognised sculptors.
The cemetery has three gateways. The lower one has the coat of arms of Sóller (1828), the middle one meets a cross with a coat of arms from 1900 and the upper gateway takes us to a more modern coat of arms (1916), the work of the master Bartomeu Colom. Inside, the chapel is worthy of special mention (1841), endowed with one nave and a barrel vault which contains a retable with sculptures of Christ on the Cross and the Suffering Virgin.
To continue the ascent to Ses Tres Creus we leave behind the cemetery and then a multiple diversion appears; we must take the cart track on the right which crosses the stream over a bridge then immediately follow a bridle path lined by two walls. It is a stretch of cobbled path with a small fountain which lets us avoid an asphalted stretch and leaves us again on the Ses Tres Creus road via which we finish the ascent to its vantage point.
Behind the latter and on the first bend of the road a broad path starts on which, after around 30 metres, the cave of Ses Tres Creus can be visited. We make the return to Sóller by going back by the same route we took on the outward journey.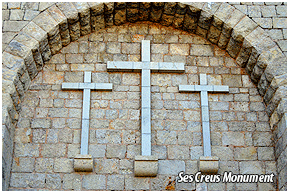 15th Hiking Route around Sóller