This circular route consists of an attractive ascent via the Mont-Reials path and a descent via that of Rocafort, joined by a stretch of the Castellópath. Both routes are considered as some of the most elaborate cobbled paths in the whole of Serra de Tramuntana, as well as constituting one of the routes which best defines the landscape of the Sóller valley.
The point of departure starts at the petrol station which joins Sóller to its port (km 30.6) and a mere 10 minutes away from the centre of Sóller. Just a few hundred metres away on the left we can complete this route by visiting the Balearic Museum of Natural Sciences, as well as the adjoining Botanical Garden of Sóller.
From the petrol station on the other side of the road an asphalted, signposted road starts as the Es Rost pathwhich we should take. The asphalt gives way to an earth track and we cross the stream of Cinc Ponts or of Mont-Reials thanks to some stones which ease our way. In the middle of an olive grove the path reappears, now with excellent cobbling, with steps and bordered by terraces and walls. Getting over the train track above one of its tunnels, we immediately come across the detour which we have to take.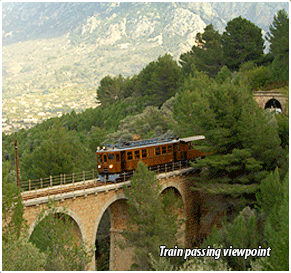 The Es Rost path continues straight on, whilst our route describes bend on the left via the path of Mont-Reials. Once on this path we continue to gain height, leaving behind two crossing gates and again flanking the train tracks. We go round the houses of Mont-Reials, with our next goals being another wall and another cart track, as well as a shed.
Finally we meet the Castelló path. Turning left, we follow this route until coming to the Rocafort path. In this area both asphalted and bridle paths are traversed. A sign shows us that the Rocafort path starts, following some bends at the start of the steep descent. Here we can consider the spectacular landscape of Sóller and almost all its environment.
We lose height rapidly and again cross the train tracks, this time via a stone bridge puente de dos ojos, with an iron wainscot. The olive trees gradually give way to the citrus ones and the path becomes asphalted, concluding in a few minutes at the same spot where this attractive route began.


10th Hiking
Route around Sóller
Duration
2 h

Difficulty average

Slope
150 m
We will need little more than an hour and a half to do this route, without including the interesting visits to the Science Museum and the Botanical Garden, plus the must stops to consider the impressive landscapes of the valley and the town.


Visiting timetable