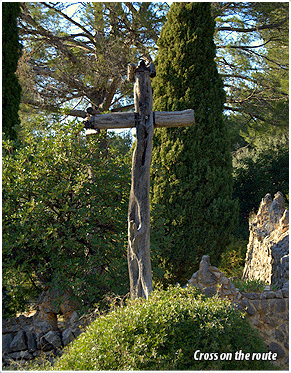 The visit to Sa Capelleta, the sanctuary of Santa María de l'Olivar des Fenàs, is one of the most pleasant trips which can be made amongst the outskirts of Sóller. The ascent to the sanctuary reveals to us magnificent views of the town, as well as of the whole valley, whilst the downhill path via costa d'en Flassada and Ses Marjades shows us historic construction details of great Interest, without ever losing the splendid view of Sóller.
We leave the Ca's Curial Estate via the lavender-bedecked path which goes to plaza de Sóller, we open the crossing gates and go straight on until arriving at an asphalted street. Subsequently, we turn right and continue our path until finding a crossroads, a place where the football match is located. We follow on the left, walking parallel to the stream of Fornalutx until reaching another crossroads where we take the path on the left; after around 50 metres of steep slope, we come across a fork. At this point you must take the asphalted path on the right which runs flat and, slightly later, on the left, you will find the upward route to the sanctuary via the old cobbled path of Sa Capelleta, which ascends amongst olive groves. This old cobbled path crosses another road which also goes to Sa Capelleta, In other words, to the same sanctuary where we are going. For our excursion we must always choose the narrow, cobbled path which is marked by a milestone which consists of a post with an arrow which indicates the direction of our route to us.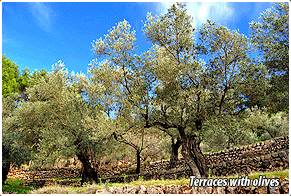 Alongside the access portal to the sanctuary keep on this same path which we follow until crossing the Sóller-Lluc road; we continue the ascent until reaching a fork which indicates to us that we have reached costa d'en Flassada, where we will gradually descend on the left down a slope, carefully crossing a few roads until crossing, for the second time, the Sóller -Lluc road.
The height gradually lessens until reaching another fork; when we get there we must open a gate to take the Ses Marjades path which appears on the left and which after a short while will leave us on the Ses Moncadespath again. From here we pass by the washing places and, following the stream, we again reach the football pitch.
8th Hiking Route
around Sóller