This route goes through the interesting area of Muleta, starting and ending at Port de Sóller. The main attractions of this beautiful route are its non-stop views over the coast and the Port, as well as the houses of Muleta, the shelter of the same name and the Cap Gros lighthouse.
As with the previous route, we start at the first tram stop upon arriving at Port de Sóller. On getting off the tram, if we are facing the sea we should take a left; after around 75 steps, we cross a bridge over the Major stream. We go along the promenade of the D'En Repic beach until taking the Camp de Sa Marpath, in other words, upon crossing the bridge, the second street on the left and we go straight ahead; after going round a bend, we maintain our route until finding the ruined hotel Rocamar, where we go right.

After going past the unfortunate hotel we go straight on until reaching a fork in the road. In the shade of a carob tree the bridle path starts; follow the path that takes us to Muleta, on the right and via some olive groves, we leave behind the houses of Muleta de Ca s'Hereu. Shortly after passing a stream, we arrive at the houses of Muleta Gran where we can behold Its magnificent defence tower. Near this tower we pass by a wall and continue northwards; we will then come to a fork. On the left it will take us to Coll de Can Bleda and to the Castelló path, so we will take the other direction taking us to the Cap Gros Lighthouse.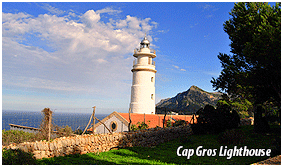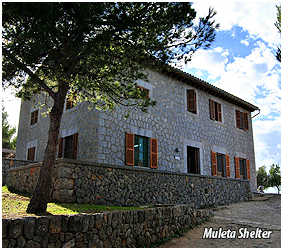 After a while we will enter an olive grove until reaching a narrow pass which will take us into the garriga. The latter stretch is a bit complicated to follow owing to the earth movements there have been recently. Having gone through the narrow pass, we can start to enjoy some amazing views over the coast and the lighthouse itself which tells us the direction to take, though you have to pay attention as the path alternates cobbled stretches with others which are ill defined.

After around twenty minutes going down we reach the car park of the Muletashelter, built on the former Telecommunications station of Muleta from 1912. The vantage point from this shelter provides us with a close-up of the nearby Cap Gros lighthouse and, further down, of Port de Sóller.

From here we go down via the lighthouse road which takes us back to the port, enjoying the amazing views of the coast of this last stretch of the route.
2nd Hiking
Route around Sóller